Image: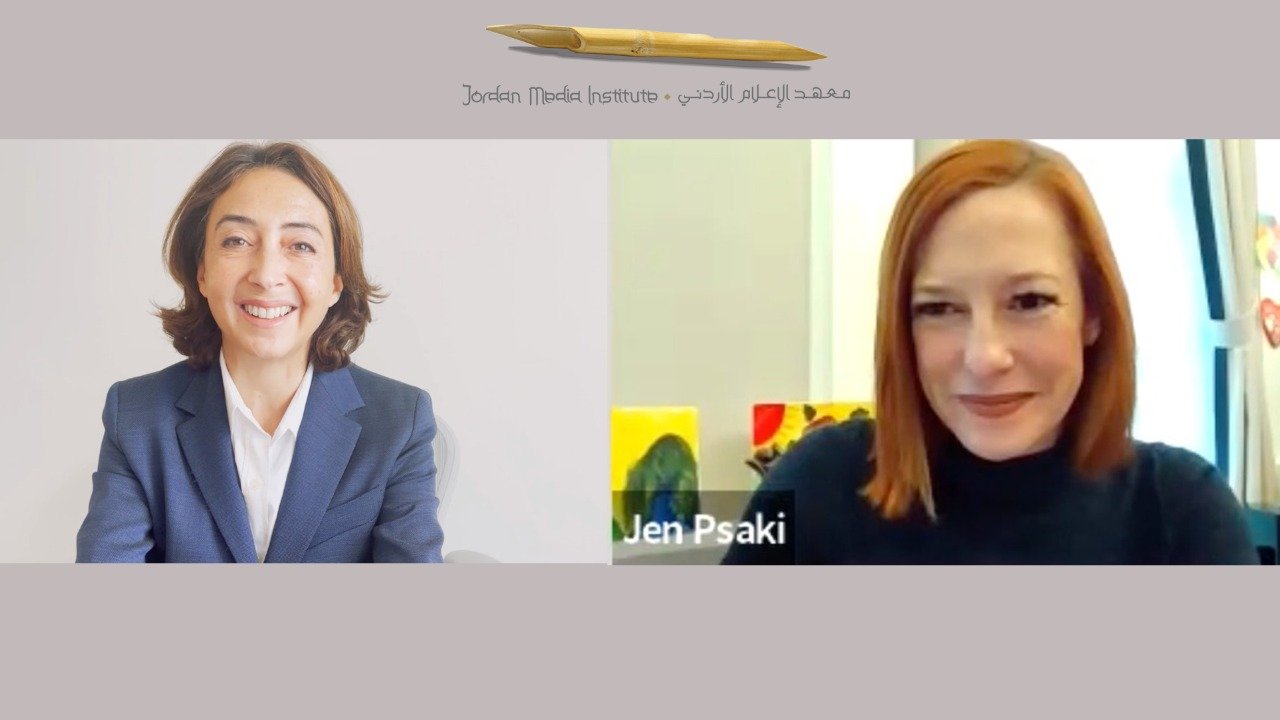 Amman – Friday, January 28, 2022 – The Jordan Media Institute (JMI) hosted White House Spokesperson, Jen Psaki, as part of the special guest speaker component of the ongoing Jordanian Government Spokesperson training implemented by JMI in partnership with the Office of State Minister for Media Affairs at the Prime Ministry and support from UNDP. The Zoom session gave participants the opportunity to ask Psaki questions about her experiences in such a high-profile global public role and to share any tips on being a spokesperson with the critical position of conveying accurate narratives and messages to the public.
In a pre-recorded welcome message, HRH Princess Rym Ali, Founder of JMI, expressed her appreciation to Jen Psaki for taking the time to participate in this virtual event and thanked H.E. Ambassador Dina Kawar and her team at the Jordanian Embassy in Washington, DC who helped facilitate this event emphasizing the importance of integrity and transparency that is inherent in the role and responsibilities of a spokesperson.
In response to a question on what motivates her to get up at that podium and face those questions every day, Psaki stated "what motivates me is, probably, what motivates all of you, is just a pull to public service and a pull to be part of working for a government that will hopefully, make people's lives better." She later on shared that they recognize that the "White House press corps is our very efficient tool to get our message out immediately to the world. They're reporting on everything the President is doing."
Questions posed to Psaki by the participants ranged from defining the parameters of the role of spokesperson to the intricacies of streamlining messaging and narrative to accurately convey information to audiences. Psaki shared advice highlighting that a spokesperson should always keep in mind the audience being addressed and to know the issue at hand becoming as much of an expert as possible to be able to convey information clearly. She also addressed the issues of proactively debunking rumors through providing accurate information without resorting to nasty language. She further advised to foster media relations by learning about the journalists and reporters as well as knowing the media outlets they work for and their audiences.
The session came to a, perhaps, not unexpected conclusion, as Psaki was called away by the President giving all the participants another glimpse into the life of a highly valued spokesperson.
The Jordan Media Institute (JMI) is a non-profit educational institution founded by Her Royal Highness Princess Rym Ali to enhance the performance of journalists and media practitioners in Jordan and the region. The institute, which provides professional education and training opportunities, offers its programs in Arabic in order to raise the level of Arab media and provide foreign media outlets with professional Arabic-speaking journalists. JMI is also the official implementing arm of the Jordanian Government's National Strategy on Media and Information Literacy.
For more information, please visit www.jmi.edu.jo or contact us via email at communication@jmi.edu.jo