Image: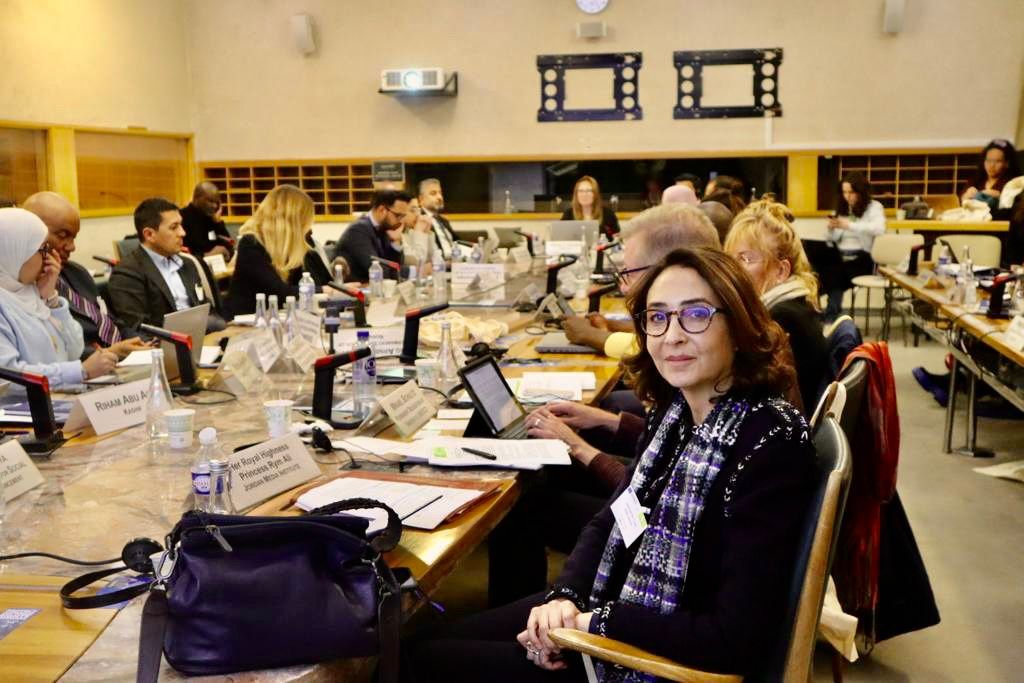 If you go anywhere in Jordan, from the sprawling Zaatari refugee camp in the North, near the border with Syria, to the vast desert of Wadi Rum in the South, home to some of the last remaining nomadic Bedouin communities – you will find that most people, old and young, have access to a smart phone.
And here's one of the most interesting facts about that and the big reason why media literacy is so vital in Jordan: more than 66% are active on Facebook. Those include children under 13 posing as adults - driving home the need to start media literacy early.
Our media environment is one in which fake accounts abound.
Add to that the introduction of so much new technology capable of generating deepfakes that are increasingly difficult to detect, the media environment in the Middle East is becoming increasingly tricky to navigate – jumping into advances in digital technology without the media literacy tools necessary to make sense of the constant flow of information.
In a region where there is a lack of trust in government media, and very little genuinely independent media to speak of, it is vital that people receive accurate information about the issues that concern our society.
It is also crucial that freedom of expression be able to thrive, for quality reporting to be valued and for access to proper unbiased information, to exist freely.
And, faced with the new AI based technology that is changing the face of story-telling, and access to knowledge, we need to make sure that no one is left behind.
When I founded the Jordan Media Institute 14 years ago, one of my goals was creating a more discerning Jordanian digital citizenry with critical thinking skills.
Our story with MIL began with the fact-checking Website, Akeed - Arabic for 'certain'. It was the first such professional platform in the region, and in fact the first media credibility monitor in Arabic, helping monitor and fact check the news that consumers are exposed to- it was established at JMI with the support of the King Abdullah II Fund for Development in 2014.
Akeed aims to support and protect the right of the society to know. And also to help media outlets improve the quality of their content, in fact spreading a culture of media accountability among media outlets, journalists and society. It also seeks to encourage the public to get in the habit of verifying news – the idea being to encourage readers, viewers and listeners, to become more discerning and view content with a critical, active, rather than passive mind.
It was not a straightforward journey: at first, Akeed had to  face the media's reluctance to be questioned, and then its delay in responding to the public's demands and right to understand the functioning of the media, among other challenges. Today, almost 10 years later, Akeed has become a reference for newsrooms.
At JMI, the foundation of what we teach our students is the basic rule of journalism:  that the public has the right to know, and journalists have a duty to tell the truth, but do no harm.
That's why JMI developed another arm to combat disinformation in the form of an extensive MIL training programme.
Because the current way in which information is shared, though, is no longer only limited to journalists who are trained professionally. we are now all equally proud producers and consumers of content -from the minute we are handed our first smartphone.
JMI therefore, in parallel to the Akeed website, began training students, faculty and staff in Media and Information Literacy training skills -at every opportunity (Salzburg -Beirut LAU,…).
In 2016 a pilot programme was launched, for almost two years, funded by the European Union and implemented by UNESCO through JMI: it was the first of its kind in Jordan to be implemented at a national scale. We started by training 24 teachers from 8 public schools, who in turn established MIL clubs at those schools, along with JMI MIL trainers, for more than 120 students aged 12 to 16, including Syrian refugees.
The feedback from the pilot project went beyond our expectations: to be told by a 14 year old boy "I understand now how terrorists get into our heads" or by another, 15 year old boy, how he was able to show his mother that something she was reading was misleading, or to be told by a 15 year old girl that this was the first time she had been asked to use her brain to think for herself and that it felt great, can only push you to persevere.
JMI's MIL programmes included elements to combat bullying, hate speech, countering extremism. Our trainers added gender-sensitivity, gender-based violence awareness, human rights training, and more – all through media literacy programmes.
The team at JMI developed the first Arabic language MIL school syllabus for teachers, a university textbook, and several training materials – we even created a mobile phone game for kids to learn fact-checking – during the course of a programme with PBS supported by the Carnegie Corporation.
We also provided guidance to policy-makers and advocated for the integration of MIL in schools and universities – our work resulted in the Ministry for Higher Education initially encouraging Jordanian Universities to integrate MIL into the study plan across faculties.
All of these efforts earned the Media Institute the UNESCO GAPMIL Award for 2018.
 in 2018, JMI drafted a strategic framework for introducing MIL on a national scale targeting schools, universities and faculty, as well as CSOs and youth and youth centers. 
This strategic framework -an ambitious three-year project - was adopted by the government, which asked JMI to implement it while  a national team of stakeholders was to oversee the work. That was the biggest shift, and it came in 2020.
Adopting JMI's framework on a national scale led to a very concrete impact:
-2000 schoolteachers were trained all over Jordan, as well as some 160 University teachers/professors in private and public universities.
- the national center for school curricula started working on integrating MIL as separate sessions within the curriculum and as concepts within school books.
We consider our story a success story not only because of Jordan's pioneering role in that field, but because of the very concrete results that our efforts have yielded in terms of awareness –  among educators, decision makers, experts, teachers, including those in remote villages. Fact-checking has now become part of a daily routine for thousands of young people.
As for JMI, it continues to further develop its MIL platform in a strategic partnership with a variety of partners, like DW Akademie more recently, with the aim of reaching more educational institutions.
There is much room for improvement and growth. To give you an idea – UNESCO's slogan is Media Literacy for all, by all. We could definitely expand and specialize MIL training programmes to reach important groups such as parents, lawyers, mosque preachers, social media influencers, sports clubs fan associations, and so forth.
Our main challenge, though, as in so many countries, remains the limited funding currently put aside for such programmes which I know was a central theme discussed in Abuja.
In the Middle East, Media and Information literacy and the critical thinking elements it crucially brings to the table are still largely in the hands of NGOs or private sector training.
In my position as president of the Anna Lindh Foundation for intercultural dialogue in the Euro-Mediterranean region, I can attest that there are similar gaps and similar needs, mainly to address Hate Speech and media manipulation through MIL training -especially in the south.
As far as the ALF goes, media and education play central roles when it comes to building bridges, to fostering and nurturing such a dialogue and in refusing the risk of a clash of civilisations.
These elements of training in fact are all part of what should be an essential part of active citizenship. "And that can counter the ideologies of greed, hate and death and fight for generalizing and globalizing social justice and egalitarian systems" as Dr. Jad Melki, the author of several MIL programs, wrote.
A decade after the program's founding at JMI, Jordan has been asked by UNESCO to host this year's Global Media Literacy Week, under the theme "Media and Information literacy in digital spaces: the role of social platforms."
We believe we can work with UNESCO and other institutions to establish an agenda promoting MIL that could benefit the region.
The final declaration of the Abuja Global Media Literacy Week called on all stakeholders to fund media and information literacy.
Literacy is a basic human right, enshrined in the Declaration of Human Rights at the United Nations. But as experts point out, it is also a moving target. Today we all agree it must include media and information literacy.
We could take advantage of the event in Jordan to issue a declaration, maybe one upheld by the United Nations even, encouraging governments and institutions to make this kind of literacy mandatory in schools in the same way that literacy once was.