Image: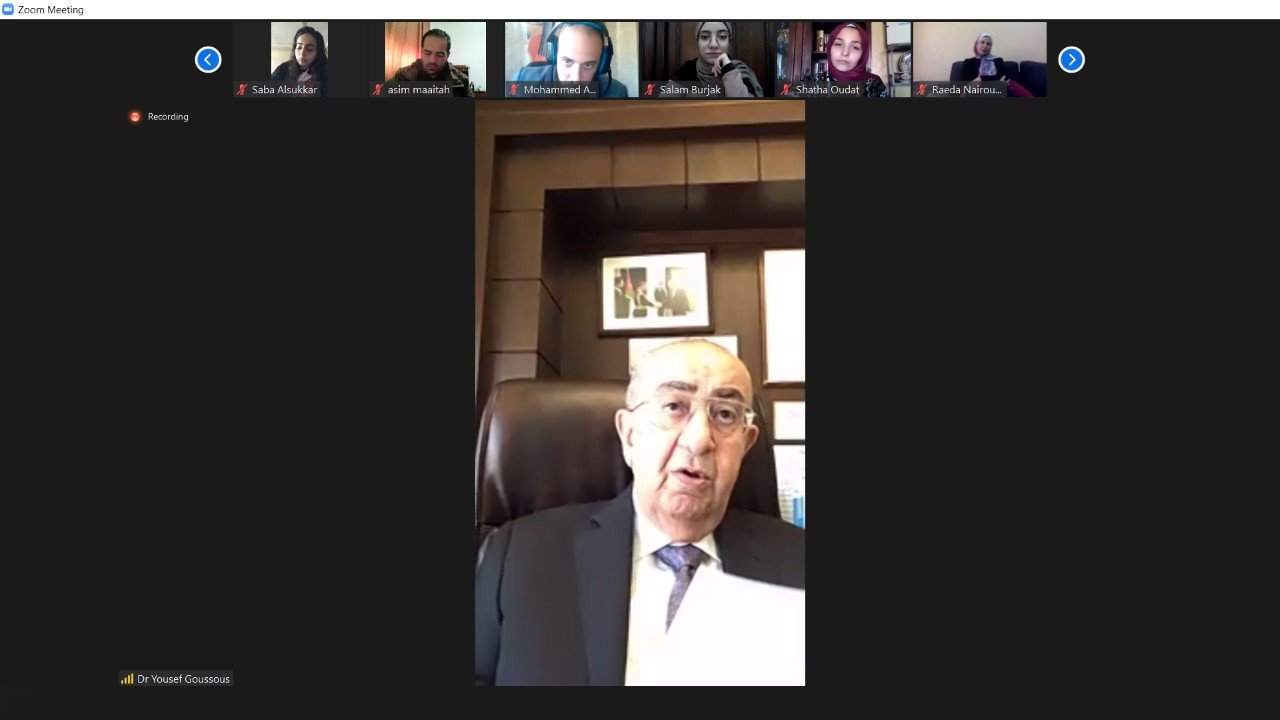 Jordan Media Institute – Amman
H.E. Dr. Yousef al-Qoussous shared his memories of the late King Hussein bin Talal with students of the Jordan Media Institute, recalling the times he served as the King's medical advisor, and director of the Royal Medical Services.
Dr. al-Qoussous described the 46 years of King Hussein's reign as a period that was full of achievements and continuous progress in many fields, including the medical sector. He noted that King Hussein attached particular importance to this field, and was keen on accommodating its needs, as His Majesty King Abdullah II continues to do today.
In a discussion on late King Hussein's legacy, Dr. al-Qoussous added that his relationship with the Monarch began in 1967. At that time, King Hussein had ordered the Royal Medical Services to receive wounded soldiers coming back from Palestine. The doctor said he was amazed to see the King helping doctors in healing the wounded.
Al-Qoussous recalled many milestones from that period, during which the late King oversaw the development of the medical sector so as to meet every possible need of doctors, nurses, and technicians. Thus, the King thought it was imperative to dedicate a medical center to cardiology that idea developed later to become the Queen Alia Center for Heart Diseases, officially inaugurated in 1983 with the support of Oman.
That period also witnessed pioneering medical achievements for Jordan and the region, including the first open heart surgery in 1970, the opening of the King Hussein Medical City in 1973, and the performance of cardiac and catheterization operations on patients for the first time in the region. The biggest achievement, however, was that these achievements were carried out by Jordanian medical staff, who had received professional training in countries with a developed medical service.
Consequently, late King Hussein's support for the medical sector helped Jordan gain a positive reputation. Jordan now receives patients from all over the world and has provided medical services to a number of state leaders and officials, including President Yasser Arafat, Field Marshal Siwar al-Dhahab, President Hafez al-Assad, Jalal Talabani, Khaled Meshaal, and President Mahmoud Abbas, Ahmed Qurei, Izzat al-Douri and others.
As Dr. al-Qoussous said late King Hussein had a balanced personality, a trustworthy man who made decisions carefully. He was a model of tolerance, generosity, and understanding toward those who disagreed with him in opinion. The late King also dealt with the Jordanian people in mere transparency, as when he revealed to them that he had cancer in a handwritten letter.
Dr. al-Qoussous also said that late King Hussein was very compliant with medical ordersm and explained that when the King suffered in 1973 from arrhythmia, an irregular heartbeat, there was a need for a medical examination. Al-Qoussous recalled that King Hussein told him then: "treat me like a regular patient," and adhered to the medical instructions he received.
In the words of Dr. al-Qoussous, King Hussein's heart beat with love for Jordan, similarly he felt a sense of belonging to the wider Arab world. In 1994, for example, he ordered a medical team to be sent to Yemen to care for those wounded in the civil war there; this was the first team from the region to arrive in Yemen, and it continued to work there for three months.
Commenting on the performance of the health sector today, Al- Qoussous said the increase in Jordan's population and the rising quality of modern medical services are a challenge to the medical sector in general, and to the Royal Medical Services in particular. This obstacle necessitates the creation of a single medical body responsible for treating civilian patients, leaving the Royal Medical Services to receive solely military personnel.
Dr. al-Qoussous also suggested that the Ministry of Health plays both a legislative and regulatory role when it comes to food and drug safety, primary care provision, and public health.